Are you the heir of a pending inheritance which is currently tied up in the probate court system? Do you need LUMP SUM FAST CASH today? If so, the professionals at Cash Capital Services can with a unique financial product called an Inheritance Advance.
As a beneficiary of an estate, you may be qualified to receive an advance of LUMP SUM CASH (based on a validated inheritance) through our seasoned contract buyers of up to $250,000.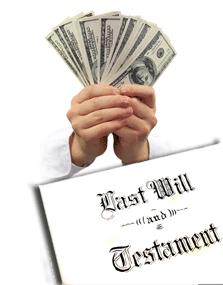 Best of all, you can use your INHERITANCE CASH ADVANCE for virtually any reason including...
Investing in a new business opportunity
Building a new dream home
Paying educational or retraining expenses
Purchasing a new vehicle
Taking an exotic trip or vacation
Covering unforeseen medical expenses
Settling legal matters
Preparing your estate
Hundreds of other reasons
Attention: Estate Lawyers and Family Planning Practitioners
Inheritance advances are a unique product which provides heirs with liquidity when they need it most. When estate cash is in short supply, contact us for a complimentary evaluation regarding your ability to arrange an Inheritance Advance for needy beneficiaries or, alternatively, simply complete or short online quote form by selecting the "Get Quote" icon below.